"Service to All Mankind" is a part of the mission of Alpha Kappa Alpha Sorority, Incorporated®, and the women of Alpha Kappa Alpha Sorority, Incorporated® Beta Chi Omega Chapter put those words into action during the 2022 holiday season, helping to spread holiday cheer to children and seniors.
"We are here to serve mankind, and this is what we do," said Rebecah Smith, who oversees the chapter's program committees as Beta Chi Omega's vice president.
For the third year, Beta Chi Omega partnered with Total Action for Progress' Sabrina's Place program to organize an "Angel Tree" donation event to fulfill the holiday wish lists of children who benefit from the Sabrina's Place program. Chapter members received the ages and gift requests of about two dozen children involved with Sabrina's Place. They then sponsored each child to turn their holiday dreams into a reality.
"It's important to give back because we're able to do more for our children," said Clarissa Nash, who spearheaded the 2022 Angel Tree campaign. "It's just good to see children embrace the Christmas holiday and celebrate."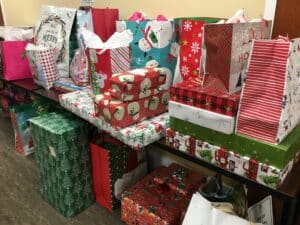 Sabrina's Place, in Roanoke, is the only free supervised visitation and safe exchange center in the western half of Virginia. The program is dear to the hearts of AKA members in Roanoke because it is named in honor of Sabrina Reed, a sorority member whose life was taken by her estranged husband during the exchange of their child.
Beta Chi Omega supports Sabrina's Place throughout the year through fundraisers and donation drives.
"It feels good to be able to give to somebody else," Nash said.
Senior citizens are sometimes forgotten during the hustle, bustle, and gift-giving of the holidays, but Beta Chi Omega members made sure seniors in the Roanoke Valley felt appreciated and loved, too.
The chapter purchased Food Lion "Holidays without Hunger" food boxes and distributed them to the residents of Melrose Towers, an independent living community in Roanoke, Va. for seniors and people with disabilities. Each box is filled with mac and cheese, brown rice, green beans, canned chicken, spaghetti noodles, and pasta sauce.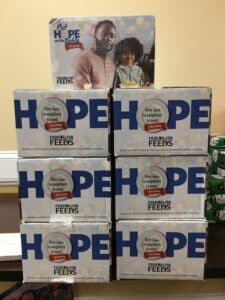 "It feels good connecting with people in need," said Maxine Joiner-Wright, who helped organize the chapter's events to spread holiday cheer to seniors. "With the sorority it expands it a little bit more, it involves more people who are willing to do the service as well."
Beta Chi Omega members also gave holiday gifts to seniors in need through the Local Office on Aging's and Home Instead's "Be a Santa to a Senior" program, which aims to fulfill gift requests for aging adults during the holiday season. In addition, chapter members visited Friendship Adult Daycare in Roanoke in December for a Christmas Tree Decorating party with participants.
The chapter's holiday outreach aligns with Alpha Kappa Alpha Sorority, Inc.'s® initiatives to "Empower Our Families" and "Uplift Our Local Community." The "Empower Our Families" initiative aims to support and service families with a focus on addressing hunger and supporting seniors. The "Uplift our Local Community" initiative promotes a focus on service to create positive change within the community.