Nearly two dozen children in Southwest Virginia experienced a brighter holiday season thanks to the generosity of the members of Alpha Kappa Alpha Sorority, Incorporated®, Beta Chi Omega Chapter.
Sorority members teamed up with Total Action for Progress' Sabrina's Place program to organize an "Angel Tree" donation event to fulfill the holiday wish lists of children who benefit from the Sabrina's Place program. AKA, the oldest Greek-lettered organization established by African American, college-educated women, is dedicated to addressing local, national, and international needs through service programs that uplift and empower communities.
"The Angel Tree program was something we thought of last year [in 2020] during the pandemic," said Gwen Mitchell, a Beta Chi Omega member who helped organize the 2021 Angel Tree program. "We thought, 'How will they celebrate Christmas?' and wanted to do something really special for them."
For the first Angel Tree event in 2020, Beta Chi Omega received the ages and gift requests of children involved with Sabrina's Place. Members of the sorority quickly worked to "adopt" each child and fulfill their wish lists.
"Once all the members chose their child, they either sponsored a child individually or they worked together as a group and sponsored a child, just to make sure that they got everything they wanted," Mitchell said. "After we did that, we would make sure the gifts were labeled appropriately and take the gifts over to Sabrina's Place."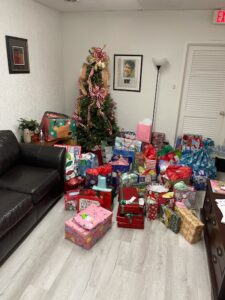 For the 2021 holiday season, Beta Chi Omega members adopted 19 children and delivered more than 200 gifts to Sabrina's Place.
"We tested it [the Angel Tree program] for the first time last year and it was a huge success, and this year was even more of a success," Mitchell said. "We just wanted to bring some joy to their lives and smiles to their faces during that time."
Sabrina's Place, in Roanoke, is the only free supervised visitation and safe exchange center in the western half of Virginia. Sabrina's Place is one of the programs and services TAP provides in its mission to help people and families achieve sustainable, equitable economic and personal independence through education, employment, affordable housing, and safe and healthy environments.
The program is dear to the hearts of AKA members in Roanoke because it is named in honor of Sabrina Reed, a sorority member whose life was taken by her estranged husband during the exchange of their child.
In a web article with TAP in April 2021, Katina Hamlar, president of Beta Chi Omega, said, "The sorority sisters loved [Sabrina] and felt a great sense of loss. They see [Sabrina's Place] as a personal opportunity to give back to the community and to honor her legacy in a meaningful way."
In that same article, Melody Robinson, program coordinator for Sabrina's Place said, "[The AKAs] have been faithful, and they have been there from the beginning. Their consistent involvement is the theme. They have been ideal program supporters."
Beta Chi Omega supports Sabrina's Place throughout the year through fundraisers and donation drives, including a bottled water collection in which the chapter donated more than 1,000 bottles of water to Sabrina's Place.
"Our members are always so generous," Mitchell said. "Any time we ask them to do anything, they just make so much effort in ensuring that Sabrina's Place is well stocked."
Mitchell said Beta Chi Omega hopes to make the Angel Tree program an annual event and hopes Beta Chi Omega's continued support of Sabrina's Place can inspire others to get involved.
"We hope that from what we've done for Sabrina's Place, that other businesses or organizations will join in the effort to help Sabrina's Place by providing monetary gifts, grants, or supplies," Mitchell said. "They are a very needed organization in this area, providing a safe haven for children and families."
To learn more about Sabrina's Place or donate, visit tapintohope.org.